Visitors since
Sept 21, 2008
updated
Sunday February 03, 2013
Effective Speaking Regional Contests 2012

Region 1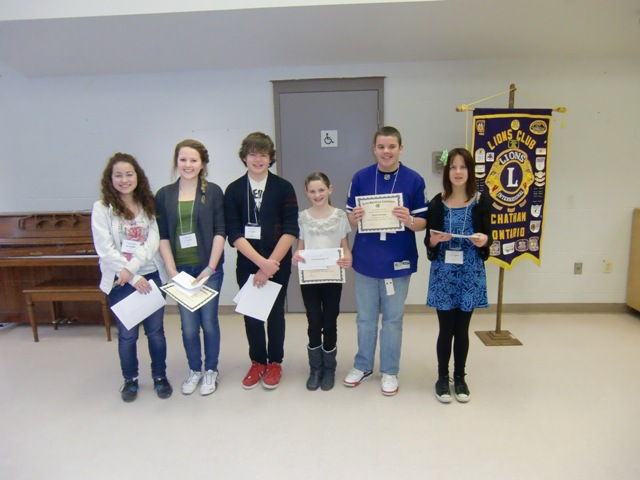 L to R: Yadell Innes, Liessell Innes, Josh Wenner, Paige Grainger-Bonner, Justin Grainger, Kayla Norton
Region 1 Winners 2012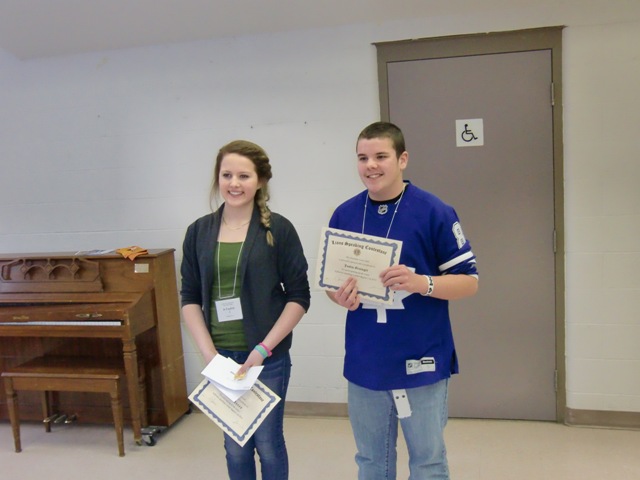 Liesell Innes and Justin Grainger
Chatham Lions Host Region 1 Speaking Contest
Six young people spoke to a gathering of parents, friends and teachers at the Lions Regional Effective Speaking Contest on Sunday, February 19. The Chatham Lions Club hosted the event at the Active Lifestyle Centre in Chatham. The contestants are students at Tecumseh Public School and Winston Church Public School in the Junior English category. The winners will proceed to a District speak-off in St. Thomas and the winners of the district contest will enter the Lions Multiple District contest at their convention in May. The contestants on Sunday were Paige Bonner-Grainger, Justin Grainger, Liessell Innes, Yadell Innes, Kayla Norton, Josh Wenner. The winners were Justin Grainger and Liessell Innes. Justin Grainger spoke on "Oil" and Liessell Innes spoke on "My Dad". All the contestants received cash prizes and certificates of participation presented by the Chatham Lions Club Effective Speaking chair Bob Book and the District A1 Lions Club chair Ron Lindsay. Judges were Jane Butterman, Ada Wright, and Ellen Smit.
Region 24
Back row from left to right - Petrolia Lions Club President Andy Hart, Leena Bourne, Rachel Loerts, Lion Ron Lindsay, Effective Speaking Chair MD A, Lion Sue Hart, Petrolia Lions Effective Speaking Chair
Front row from left to right - Adam Labelle, Julianne Schiller, Marissa Mueller, Allyson Gubbels and Rebecca Rust
Multiple District A Effective Speaking Winners 2012
District A-1 Effective Speaking
25 March 2012
Winners Contestants
#

Order

Contestant

Category

Club

Senior Speakers
1st
Place Winner
Lenna Bourne

Sr. E

Petrolia
2nd
Place Winner
Rachel Loerts

Sr. E

Petrolia
Intermediate Speakers
1st
Place Winner
Julianne Schiller

Imm. E

Delaware
Junior French Speakers
1st
Place Winner
Adam Labelle

Jr. F

Strathroy
2nd
Place Winner
Rebecca Rust

Jr. F

Petrolia
Junior English Speakers
1st
Place Winner
Brooke Elliott

Jr. E

Thorndale
2nd
Place Winner
Marissa Mueller

Jr. E

Petrolia
3rd
Place Winner
Allyson Gubbels

Jr. E

Delaware LNS
Runner - up
Lissell Innes

Jr. E

Chatham
Runner - up
Justin Granger

Jr. E

Chatham
Runner - up
Bethany Hiemstra

Jr. E

Thorndale
Sr. English
Lenna Bourne
Petrolia
Intermediate English
Julianne Schiller,
Delaware
Jr. French
Adam Labelle
Strathroy,
Jr. English
Brooke Elliott,
Thorndale
Multiple District A Effective Speaking Winners 2011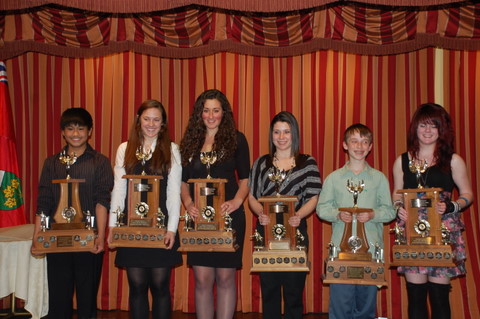 1st place winner photo left to right:
Jr. E Amandreo V. Cortes A-15
Sr. E Katija Bonin A-711
Sr. F Emillie De Hass A-4
Int. F Jessica Tungeon A-4
Jr. F Sebastian Meissner A-4
Int. E Karissa Manning A-2.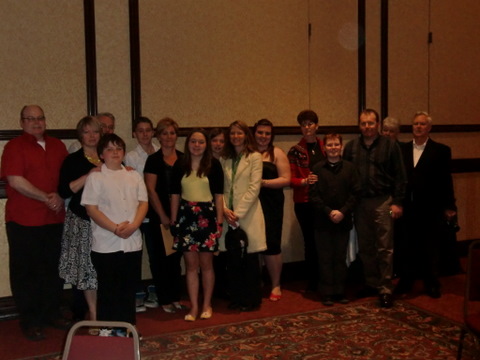 MDA Effective Speaking winners and families.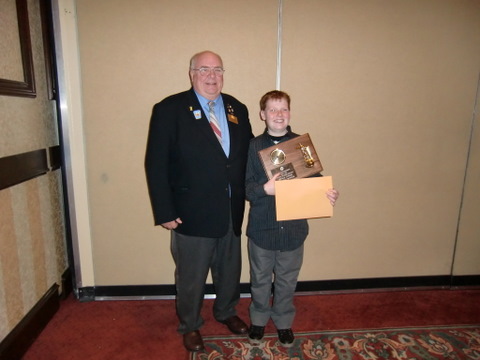 Adam Labelle, District A1 (Strathroy Lions)
- Junior French 3rd Place winner.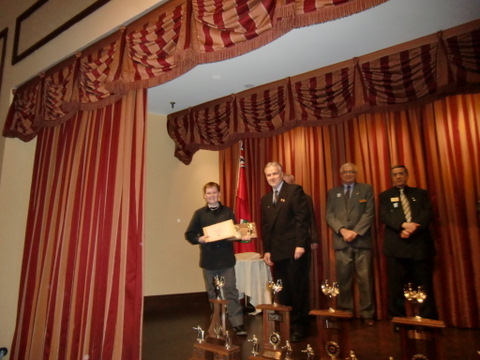 Table of Winners
JUNIOR ENGLISH

1.

Amandreo V. Cortes

A-15

2.

Shannon Egan

A-9

3.

Emma Middlehurst

A-711

JUNIOR FRENCH

1.

Sebastian Meissner

A-4

2.

Charlotte Hackner

A-15

3.

Adam Labelle

A-1

INTERMEDIATE ENGLISH

1.

Karissa Manning

A-2

2.

Stephanie De Haas

A-4

3.

Victoria Kaulbeck

A-711

INTERMEDIATE FRENCH

1.

Jessica Turgeon

A-4

2.

3.

SENIOR ENGLISH

1.

Katija Bonin

A-711

2.

Rebecca Pearce

A-12

3.

Morgan Wase

A-15

SENIOR FRENCH

1.

Emillie De Hass

A-4

2.

Frederique Rajotte

A-16

3.

Emmanuel French

A-3
District A1 Effective Speaking Contest Winners 2011
At the District Speak-off on March 27, 2011, 14 contestants presented their speeches.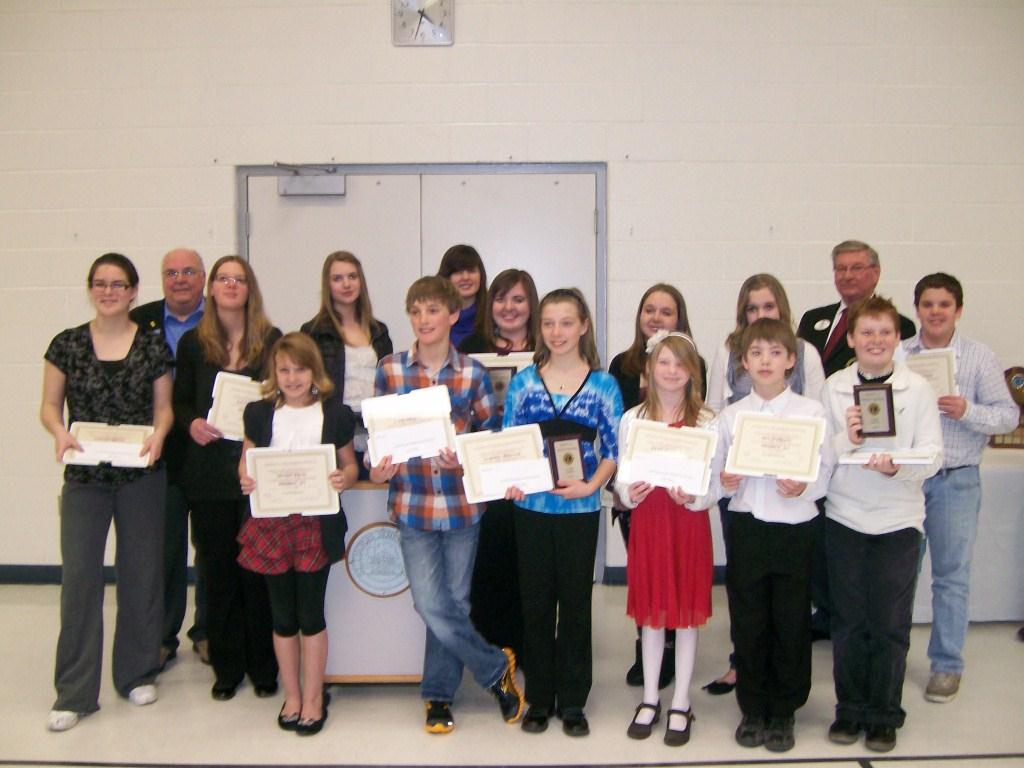 The following contestants were the winners in each category.
Adam Labelle
(Junior French,
Strathroy Lions),
Marissa Mueller
(Junior English,
Petrolia Lions)
Leena Bourne
(Senior English,
Petrolia Lions)
Julianna Schiller
Intermediate English,
Delaware Lions)
Effective Speaking Contest Information
Refer to the following links for posters and the Manual (Regulations and guidelines for conducting the contests). Select your preference of program (PDF, Word or WordPerfect) for printing posters. You may insert local information on the Word/WordPerfect files.
Posters: