Chatham Lions "Fill the Bus" for Outreach for Hunger
Leader Dog Founder's Award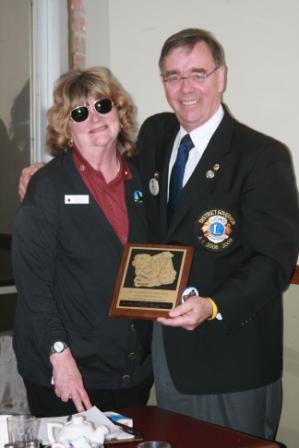 Leader Dog Founder's Tribute
Lion Mickey Puddicomb, Leader Dog for the Blind A-1 Chair, was presented with a Leader Dog Founders Award by Governor Don at Chatham Lions Club at his official visit.
Tecumseh Lions - Dimes for Diabetes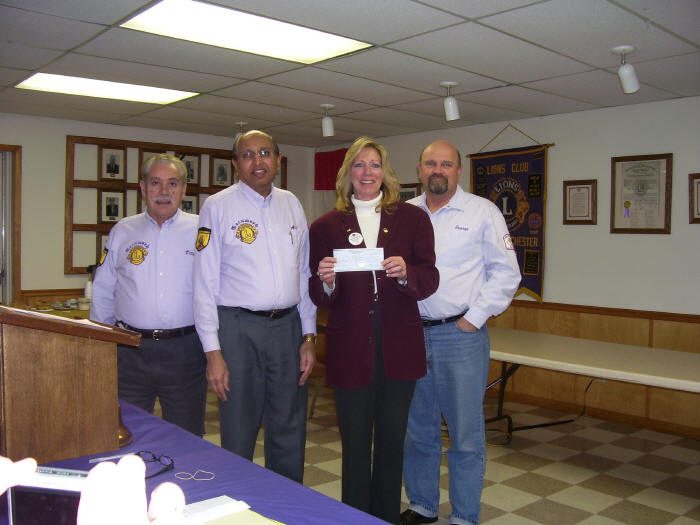 Tecumseh Lions –Donating Dimes for Diabetes
The Tecumseh Lions Club presented a cheque for $1200.00 to Zone Chair 1W Lion Marianne Robinson
for "Dimes For Diabetes" during the 2nd zone advisory meeting held in Harrow-Colchester on Jan 22nd 2009,
In the picture from left to right are
Lion Vito Marchese, Tecumseh Lions Club President Ali Sama, Zone Chair Lion Marianne Robinson and Lion George Somogyvary.
Kingsville Christmas Party and Awards
| | |
| --- | --- |
| Kingsville President Randy with PP Starr | Kingsville Lion Tom & PP Starr |
| Kingsville Lion Dick & PP Starr | Kingsville Lion Derek, wife Bonnie & PP Starr |
| Kingsville Lion Jim & PP Starr | Kingsville Lion Andy & PP Starr |
| Kingsville Lion Harold & PP Starr | |
Kingsville Hosts Dog Guides In Training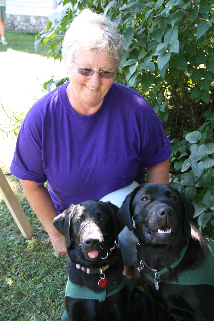 Dog Guides at J R Park Homestead in Kingsville
The Kingsville Lions operated a food booth at the John R. Homestead Blueberry Social on August 8th & 9th. Hot dogs, blueberry pie and blueberry sundaes were the hit of the day. Visiting from Hamilton Ontario were two Guide Dogs in training from Lions Foundation Canada with foster parents Pam & Kevin Dibling. Ellie on the right will be training soon to be a Special Skills Dog and Peyton on the left is still in puppy training. Looking on is Lion Carolyn Oshell. Photo Courtesy of Nelson Santos (Kingsville Reporter)
Leamington Heroes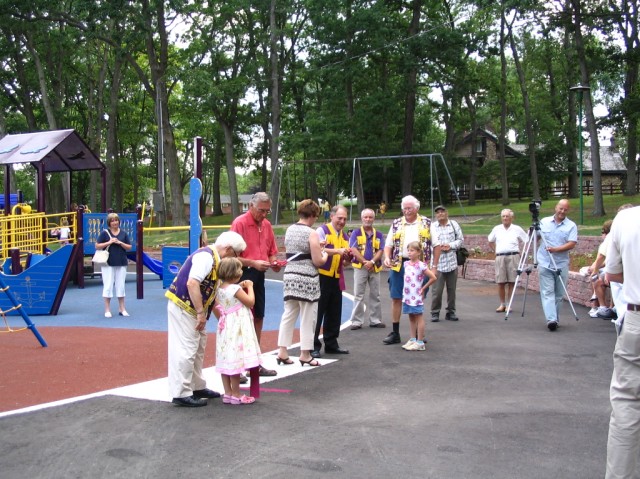 Leamington Lions Open Playground
The Leamington Lions Club held their official opening of the Leamington Lions Club Playground on August 6/08 at Seacliff Park. Total cost of the project was $250,000.00 and was financed by a grant from the Trillium Foundation and a large donation from the United Food & Commercial Workers, the Municipality of Leamington and the residents of Leamington. This will stand for a long time as a legacy of the Leamington Lions Club. People have told us that it was long overdue is much appreciated. It is fully accessible to all children.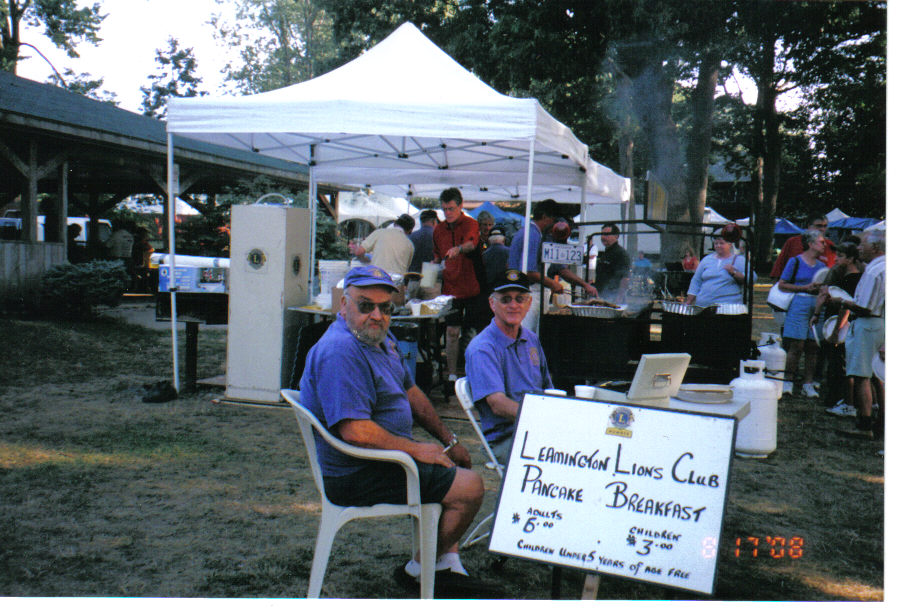 The Leamington Lions Club held their Annual Tomato Fest Pancake Breakfast on August 17,2008. Pictured above are members cooking and serving pancakes and sausages to our patrons. This is truly a member project as they show up at 6:30 a.m. to setup and start cooking. The Club raised a net profit of 1,415.76. A thank you to all the members who gave of their time for this project. This is truly men at work